HIGH QUALITY FINISH FOR A HIGH QUALITY PRODUCT
Our innovative machines are all finished in an equally innovative manner.
To protect your investment, Blaney vehicles are all shot blasted and then go through the Blaney 4 stage pre finish treatment and then a 2 stage poly coating process, to ensure a quality finish for durability and to help prevent corrosion.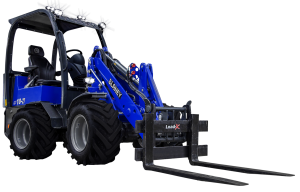 We offer environmentally sound specialist coatings that offer corrosion protection from mechanical damage as well as chemical & weathering resistance. Our specialist powder coating offers an excellent long-lasting, and colour-durable quality finish that is extremely decorative and resistant to chemicals, chipping, fading and wearing.
Blaney's power coating finish is also virtually pollution-free, with very little wastage in the application process, containing no solvents and producing almost zero volatile organic compounds.
Powder coating is finished to the British Standards BS EN 12206 : 2004 and BS EN 13438:2005