Blaney Motor Company are pleased to invite you along to their stand at Balmoral Show, 15th to 18th May, to see their newest vehicle, in addition to their existing compact loader range.
These new Blaney vehicles are designed to be multipurpose and compact for manoeuvrability and mobility.  Their size allows them to access hard to reach areas while their weight allows them to be transported under 3.5 ton.  So if you're involved in farming, plant hire, construction, equestrian, landscaping, amenities, road works or self-build, this could be the next machine for you.
Blaney Motor, based in Co Antrim is a division of the Blaney Group, which has over 25 years' experience in design and manufacture.  Established brands including Quad-X ATV equipment and Blaney Agri tractor machinery are also part of the group, which gives the engineering company great synergy and a valuable understanding of the agricultural industry.  This has given the Blaney development team the edge when designing machines since they are able to develop a vehicle with innovative features which offers a complete solution to many tasks.  Most farmers have more jobs to do than they have time for, and with good farm labour being hard to find farmers struggle to get the help they need…until now!
Sean Blaney, MD of Blaney Motor Company is delighted to have the opportunity to showcase Blaney Motor's new vehicles at the Balmoral Show and says, "We are delighted with the feedback we have received on our compact wheeled loader range launched a few years ago and are excited to have further developed our range of vehicles which we will be showcasing at Balmoral."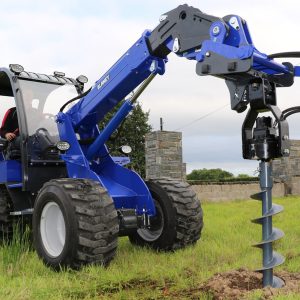 Look out for the Blaney compact wheeled loaders in their eye-catching Blaney blue colourway at the Show and see how they have been designed to be simple to operate, with all the controls at your fingertips.  Blaney engineers have paid close attention to the need for farmers to hop on/ hop off quickly and incorporated a design for easy driver access.  The Blaney compact wheeled loader is equipped with a 40HP engine and hydrostatic transmission with four wheel drive limited slip differential.  With a unique high capacity hydraulic system they are able to lift an impressive weight with a 1 tonne lifting capacity and an impressive industry leading 2.7m reach or 3.3m for the telescopic model.   Special attention has been given to the design of this telescopic machine in transferring tractive effort to the wheels during loading or pushing material.
These compact loaders are multifunctional and can replace forklifts yet do more and tackle many of the jobs an ATV/UTV can do.  Although small in size, these loaders are more than capable of most jobs many farmers do with larger more cumbersome handlers that are not suited to the job at hand.  Rather than a case of what can it do, it's a case of what can't it do.  With Blaney's experience in the attachment sector they offer a range of off-highway vehicles that are multipurpose and versatile, by offering a wide range of tools for the job in the form of attachments.  Around the yard and laneways the Blaney loaders are ideal for many jobs such as sweeping and hedge cutting as well as unloading, lifting and moving loads such as sand, stones, pallets and fertiliser bags. With a compact size and impressive reach the machines can be used to give access to maintenance jobs such as cleaning gutters and working at height.
If you are on the lookout for a multipurpose compact wheeled loader or want to sew Blaney's newest innovation, get in touch with Blaney Motor to find out more. From ROI Tel 048 2587 8744, from NI/UK Tel 028 2587 8744 or email info@blaneymotor.com  You can also keep up to date with developments on facebook or twitter at /BlaneyMotor